Bibimbap (Korean Rice With Mixed Vegetables)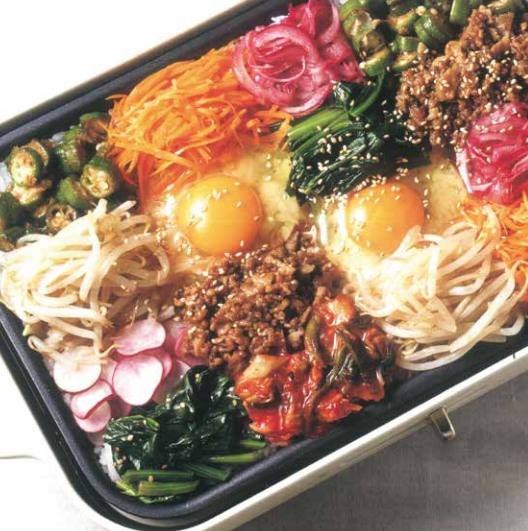 Ingredients (2-3 servings)
Cooked warm rice.................................................................. 2 cups
Sesame oil.............................................................................. 1 tbsp
Meat paste, carrot, spinach, pumpkin, bean sprout, okra, pickled onion                                                                  ......................................................... refer to below
Eggs........................................................................................ 2 counts
Kimchi..................................................................................... at your choice
Baby radish............................................................................. 2 conts
White Sesame........................................................................ pinches
Korean chili paste................................................................... at your choice
     1.Meat paste
Add ground pork (meat, chicken, tofu) on to the skillet. Add 1 tbsp of cooking rice wine, 1 tbsp of granulated sugar, 1tbsp of soy sauce, 1 tbsp of miso paste, 1 piece of minced ginger. Set the temperature to MED. Stir fry with wooden spatula until meat paste is cooked.
     2.Carrot toppings
Shred ½ carrot. Set temperature to MED. Stir fry the shredded carrot with vegetable oil until cooked. Add salt and pepper to season. White sesame to garnish.
     3.Spinach toppings
In boiling water, add 3 cups of spinach and cook for 30 seconds. Cut it up into 2 inches long. In a large bowl, mix well with salt, soy sauce, sesame oil, white sesame.
     4.Spring Sprout toppings
With ½ cup of spring sprout, repeat the procedure of making spinach toppings.
      5.Okra toppings
Cut up G okras, add sesame oil and soy sauce. Mix well.
Steps
Add sesame oil on the skillet. Set temperature to MED.
Add rice at the bottom Top it with rice and other side dishes. Drop the eggs on top and close the lid for 5 mins.
Add chili paste at your choice.
---