Ricotta Cheese Pancakes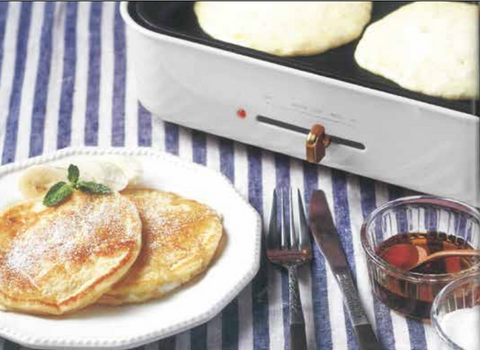 Ingredients (2-3 servings)
Cake flour....................................... 5 tbsp
Baking powder...............................1tsp
Ricotta cheese.............................. 9 tbsp
Butter............................................. 2 tsp
Egg................................................ 2 counts
Banana.......................................... 1 count
Milk................................................. 2.7oz   
Maple syrup, whipping cream....... at your choice
Steps
In a large bowl, sift together the flour and baking power. Separate egg white and yolk and set them into two different bowls.
With a hand mixer, beat the egg white until the egg white peaks.
Add milk into egg yolk. Mix with ricotta cheese and keep mixing. When finished, add the flour and baking powder. Add peaked egg white, mix well.
Add butter to the skillet. Set the temperature to MED. When the butter is half melted, add the batter on the skillet to make pancakes.
---