Tomato Cod & Vegetable Soup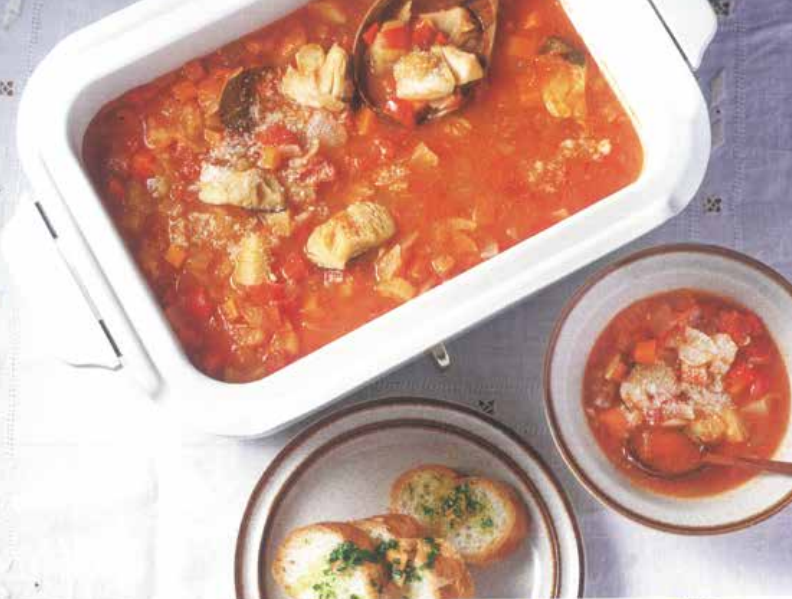 Ingredients (2-3 servings)
Cod fish steak..................................... 2 counts
Onion................................................... 1/2 count
Potato.................................................. 1 count
Celery.................................................. 1/2 count
Bell pepper.......................................... 1/2 count
Garlic................................................... 1/2 clove
Olive Oil............................................... 1 tbsp
Parmesan cheese............................... 1 tbsp
Seasonings
Italian Tomato Sauce....................... 1/2 cup
Salt................................................... 1/3 tsp
Black pepper.................................... pinches
Water................................................ 2 cups
Bay leaf............................................ 1 piece
Steps
Cut up the cod fish into chunks. Dice up the onions, potatoes, carrots, celery, bell peppers. Mince the garlic.
In the saucepan, add olive oil and garlic. Set the temperature to MED. Add all vegetables. Stir fry for 3 mins.
Close the lid for 10 mins. Add cod fish chunks and cook for 6 mins.
Garnish with parmesan cheese.
---