White Wine Salmon with Tartar Sauce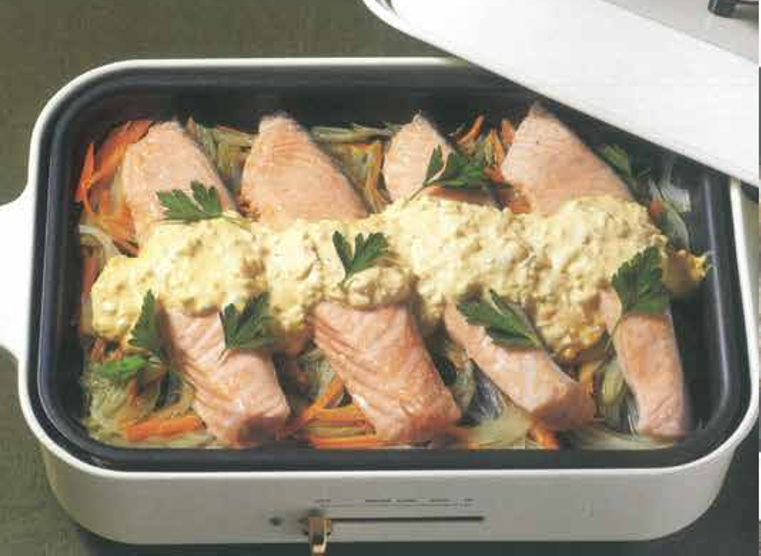 Ingredients (2-3 servings)
Salmon steaks........................... 4 counts
Salts & pepper........................... pinches
Celery......................................... 1/3 count
Carrot......................................... 1/3 count
Onion.......................................... 1/2 count
Butter.......................................... 1 tbsp
White wine.................................. 1/4 cup
Water........................................... 1/4 cup
Tartar Sauce
Boiled egg.................................... 2 counts

Minced pickled cucumber............ 1.5 tbsp
Mayonnaise.................................. 1/3 cup
Lemon juice.................................. 2 tbsp
Milk................................................ 3 tbsp
Salt & pepper................................ pinches
Steps
Dry up the surface of the salmon with paper towel. Marinate with salt and pepper. Slice the celery, carrot, and onions.
Set the skillet temperature to HI. Add all vegetables. Add salmon steaks on top of the vegetables. Sprinkle with white wine and water. Close the lid and cook for 5-8 mins until cooked.
While cooking, prepare the tartar sauce. Cut up the eggs and mix well with other ingredients. Milk is for adjusting the thickness of the sauce.
Add sauce on top of the salmon. Garnish with parsley.
---